Appendix: Second Letter from National Science Foundation
< Prev T of C ... 12 13 14 15 Epi. Cat. App. Ref. Cred. Next >
NATIONAL SCIENCE FOUNDATION
WASHINGTON, D.C. 20550
OFFICE OF THE
ASSISTANT DIRECTOR
FOR ASTRONOMICAL,
ATMOSPHERIC, EARTH,
AND OCEAN SCIENCES



September 15, 1977
Dr. Robert V. Gentry
Dear Dr. Gentry:
I am writing to respond to your letter of August 26, 1977, requesting reconsideration of the Foundation's earlier decision to decline your proposal, "Nuclear Geochemistry of Radiohalos," (EAR 77-13496), as provided for in the Foundation's Important Notice No. 61.
I requested a Section Head who is not a part of the Division of Earth Sciences to analyze the proposal jacket, to study the reviews, and to discuss the decision with me. Following his report to me, I have reviewed the documents in the case myself. It is my conclusion that your proposal received a thorough and fair peer review through the Geochemistry Program Office, a review that included a conscientious and careful consideration of six ad hoc mail reviews. As part of the reconsideration process your rebuttal to those reviews has been considered also.
It is my opinion that your proposal was fairly reviewed and that the decision to decline was justified. I would point out to you that under the terms of Important Notice No. 61 you are entitled to make a further appeal to the Deputy Director. You are also invited to revise or extend your thoughts for the submission of a new proposal at any time.
Sincerely yours,

Edward P. Todd
Acting Assistant Director
Copy to:
Business Manager
Columbia Union College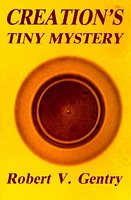 Get the entire printed version of our book for $18 + S/H.

To order our book and/or videos,

Call Us at (800) 467-6380, or use our order form.
Doc.: T of C ... #5 #6 #7 #8 #9 #10 #11 #12 #13 ...
< Prev T of C ... 12 13 14 15 Epi. Cat. App. Ref. Cred. Next >