Appendix: National Science Foundation's Letter to U.S. Rep. Lagomarsino
< Prev T of C ... 12 13 14 15 Epi. Cat. App. Ref. Cred. Next >
NATIONAL SCIENCE FOUNDATION
WASHINGTON, D.C. 20550
OFFICE OF THE
ASSISTANT DIRECTOR
FOR ASTRONOMICAL,
ATMOSPHERIC, EARTH,
AND OCEAN SCIENCES



February 14, 1983
Honorable Robert J. Lagomarsino
House of Representatives
Washington, D.C. 20515
Dear Mr. Lagomarsino:
I am replying to your letter of January 27, 1983, in which you asked about NSF's handling of a research proposal from Dr. Robert Gentry of Columbia Union College.
All NSF funding decisions are based on a process of peer review which involves mail reviews by several experts in the field and, in many cases, further consideration by a panel of scientists from outside NSF. Only about half of the proposals we receive can be funded. Criteria used are stated in our booklet "Grants for Scientific and Engineering Research" (NSF 81-79, copy of relevant page enclosed). The holding of unorthodox scientific views is not a barrier to the receipt of NSF support, and the best evidence for this is the fact that during the 1970's NSF funded several of Dr. Gentry's proposals including one for $54,900 for the study of "Nuclear Geophysics of Radiohalos."
Please reassure your constituent that NSF funding decisions are based on well identified criteria and that Dr. Gentry's views have not been a barrier to his receiving NSF support.
Sincerely yours,

Francis S. Johnson
Assistant Director
Enclosures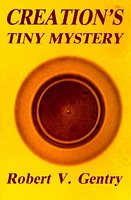 Get the entire printed version of our book for $18 + S/H.

To order our book and/or videos,

Call Us at (800) 467-6380, or use our order form.
Doc.: T of C ... #7 #8 #9 #10 #11 #12 #13 #14 #15 ...
< Prev T of C ... 12 13 14 15 Epi. Cat. App. Ref. Cred. Next >